We are currently offering several show quality or proven show horses for sale. I have 2 geldings that are AMHR reg. 1 AMHA/AMHR smokey black 2 year old filly. 1 AMHR palomino minnimal frame overo stallion. All of these horses are quality horses with no health or temperment problems.
KOS McMillans Bit Of Class: AMHR reg. 36". Bay Gelding. Alladin is trained in jumping, obstacle, halter, hunter, liberty, and started ground driving. Alladin has been to the shows since he was a yearling. He is now 5 years old. He is a sweetheart and loves attention. He looks like a mini arab. He is an awesome jumper!!! If you are looking for something to show this year that is ready to go, here he is. 1000. FIRM.
KOS McMillans Bit Of Class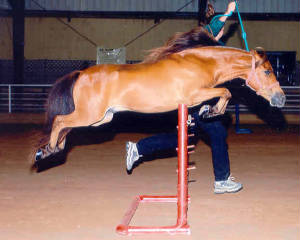 For sale $1000
CSF Lyle Lovett: AMHR. Silver chestnut gelding with blue eyes and a blaze. "B" size. Lovey is the sweetest horse we have. He has never given me a problem with anything. He has very nice conformation. He has a beautiful head and neck and very refined. He won his weanling class. Lyle is for sale for $950. FIRM.
CSF Lyle Lovett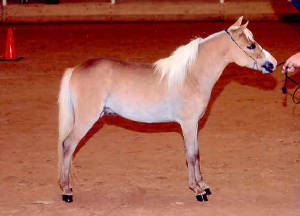 For sale $950
Sapphire's Smokin Velvet: AMHA/AMHR. smokey black 2 year old filly, "A" size. Sparkle is out of my show stallion and out of my show mare, both parents did awesome in the shows in halter and performance, they both won many awards. Sparkle is for sale because we have too many horses. I would like her to go where she will be shown, but that is not a requirement. I am selling her cheap so that if a youth needs a show horse she is available. Sparkle is very refined and has a wonderful disposition and has the conformation to win in halter. Her sire is 32.50" and her dam is 34.00". She loves people and gets along with everyone. She is offered for sale for $1200. NEG.
Sapphire's Smokin Velvet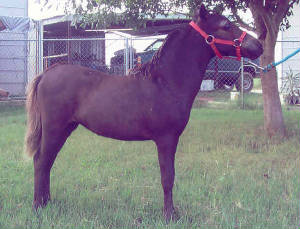 For sale $1200
Unicorner Acapulco Gold: AMHR. palomino minnimal overo stallion with 3 socks, blaze face, and 1 and a half blue eyes. Alki is a to die for stallion. He has quarter horse conformation with a beautiful head. At one of his shows the judge said he looks just like a miniature trigger. He has been very successful in the showring. Alki has straight legs and correct bite. I will be breeding him to a few of my mares this year. Alki is for sale for $1850. NEG.
Unicorner Acapulco Gold
For sale $1850
Sapphire's Smokin Addiction. "A"Size. Sire is our show stallion, Hallmark's Rocking H Gunsmoke, was res. ch. model stallion and has numerous awards. The colts dam is Karen's Sugar Princess. A sorrel and white pinto. She has numerous awards for performance in jumping, obstacle and won grand champion stake driving her first year to drive. She also has won high point and res. high point. She was Grand Champion B mini in halter at the pinto show and also won the high point.
Sold
Sapphire's Smokin Addiction